Our values
Our company values are a big part of who we are, what we stand for, and how we act; they are shared by all colleagues around the world regardless of job role or function. Our values enable us to improve the way we work together. We strive to be open and honest, yet humble and respectful. We encourage people to stand up for their ideas and inspire others to do the same.
Our shared values are
– Teamwork
– Believe in people
– Keep it simple
– Cost conscious
– Entrepreneurial spirit
– Straight forward & open-minded
– Constant improvemen
Your benefits and extras
We offer all COS employees a discount across all the brands within the H&M group. As well as this, all of our in-store colleagues receive a twice-yearly clothing allowance. One of the ways we invest in you and show our appreciation is through the benefits we offer.
- 25% staff discount
- Up to $800 per year clothing allowance
- Start with up to 3 weeks vacation
- Company wellness pay
- Medical/Dental insurance benefits*
- Short term and long term disability benefits
- BRI Commuter benefits
- H&M Incentive plan (HIP/ESOP)
- 401k Retirement plan
- Life Insurance
- Employee assistance program (EAP)
- Milestone awards
- Auto and Home Insurance
- Petplan insurance
- Bonus program
- Parental Leave of Absence
- Parental Leave Pay


*Eligible first of the month on or after 60 days of employment
Equal opportunities & inclusion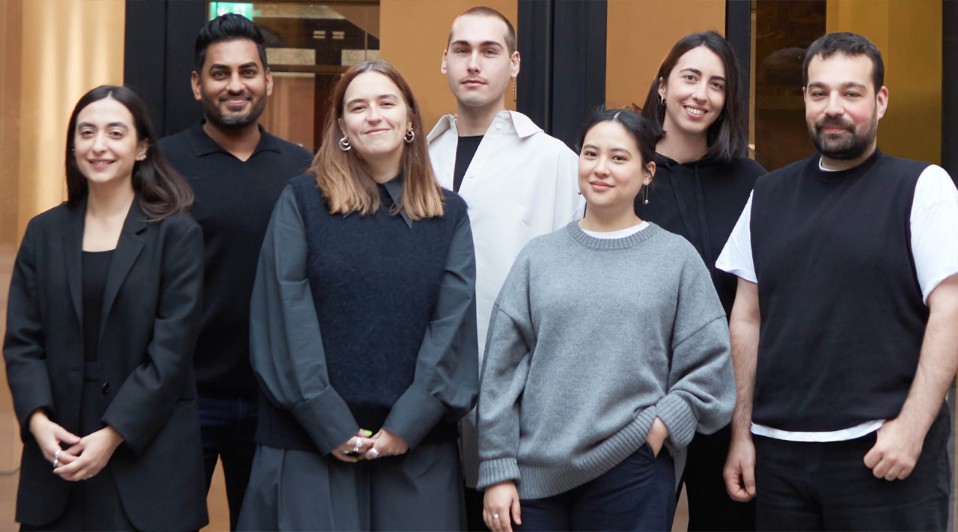 COS is present in over 30 markets around the world. As a global company our goal is to reflect the multicultural world of our colleagues and customers.
We know that inclusion and diversity is a complex and layered topic, with ever-changing issues and challenges across the many countries and cultures in which we operate.  The culture we want to build on at COS is one where inclusion and diversity is always our priority. 
Since our launch in 2007, we have always strived to be a value-driven company. Inclusion and diversity is about who we are and who we want to be. We have a zero-tolerance policy towards discrimination of any kind. We recruit, promote and reward our teams according to their contribution, achievements and commitment to our values.
Your career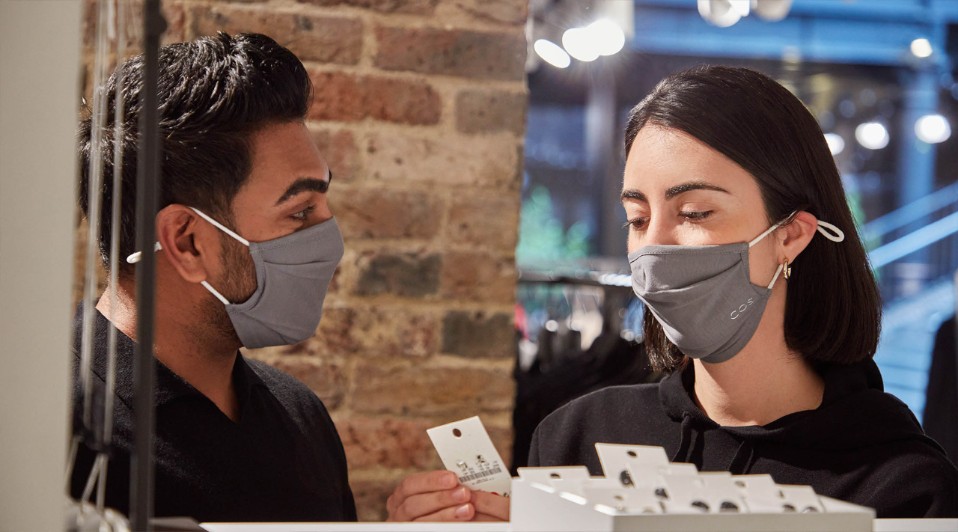 A job at COS is different for everyone: some colleagues join us while studying at university or college, while for others, their ambition is to pursue a career in retail or fashion. No matter what your motivations are, your time with us should be well spent, and we offer a variety of opportunities to help you fulfil your needs. If you are looking for progression, we will encourage you to take ownership of your career and help you to achieve your goals. As well as excellent training, annual appraisals and regular feedback — you'll also have access to our online learning portal with hours' worth of e-training materials, podcasts and videos. For managers, we partner with specialist organisations to provide leadership training and seminars that cover a variety of other topics. For some senior roles, we also offer the chance for colleagues to transfer to other cities/countries to complete short-term projects, or in some cases, fill longer-term business needs.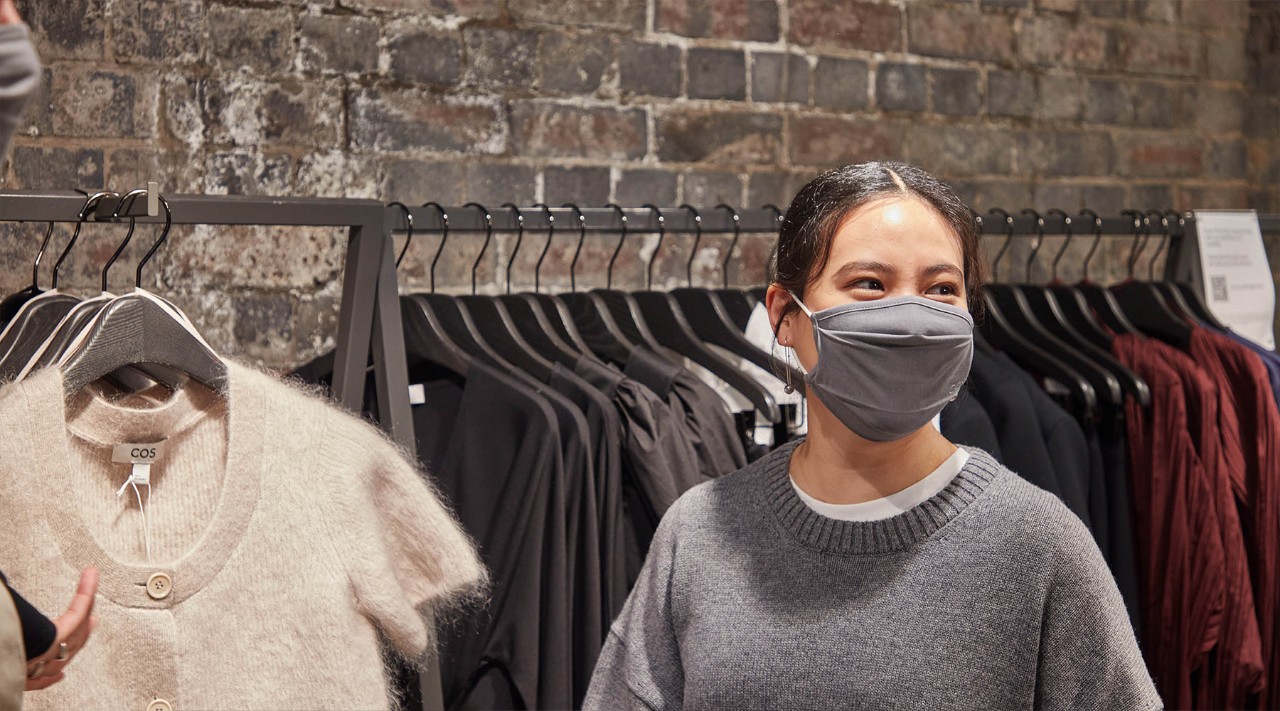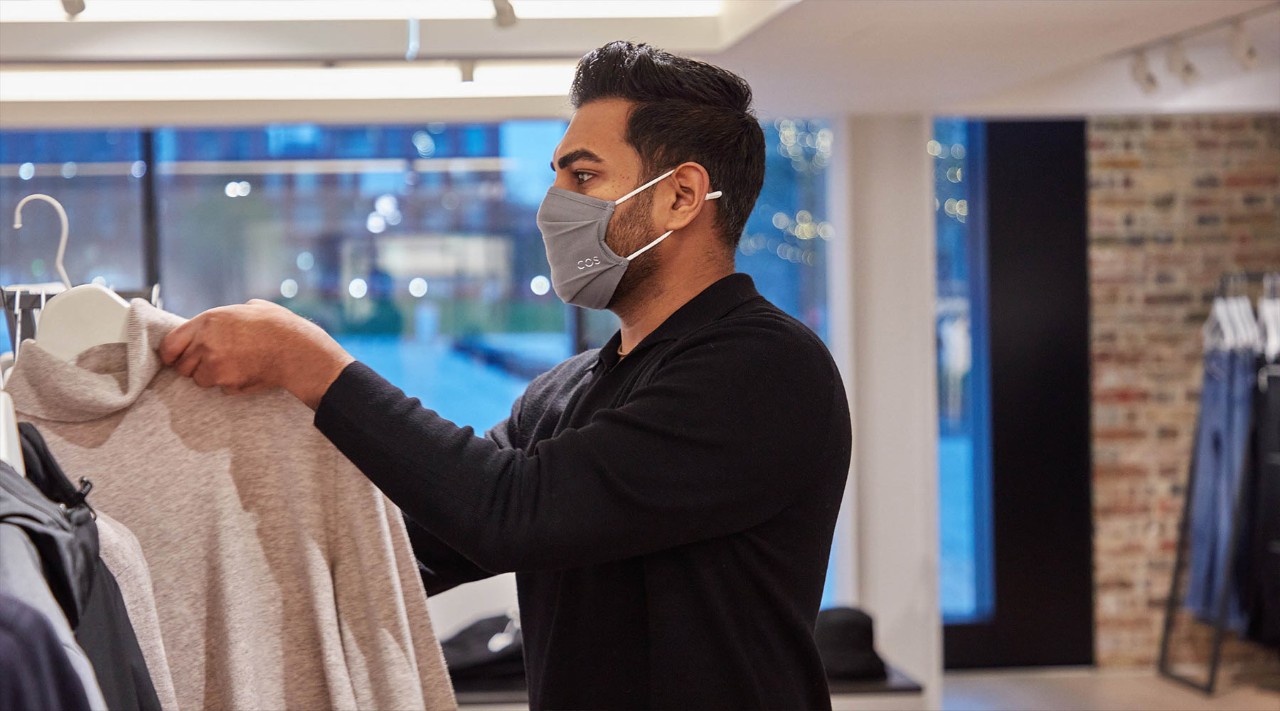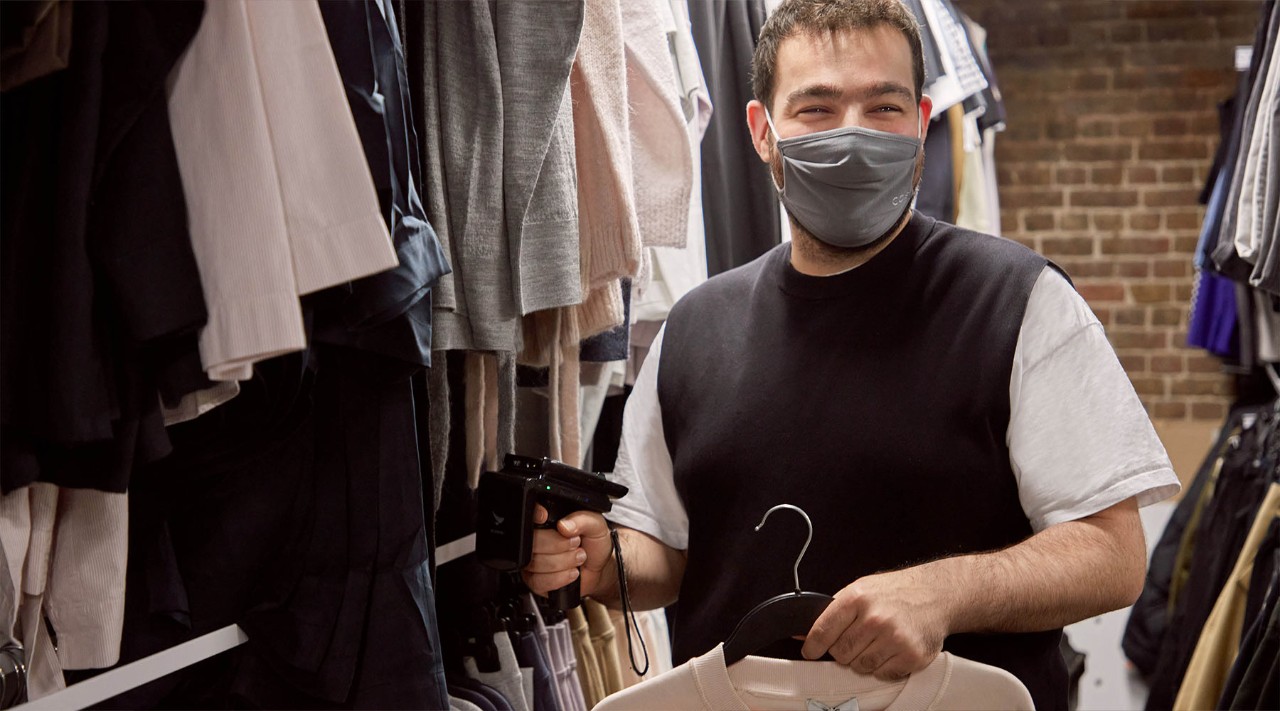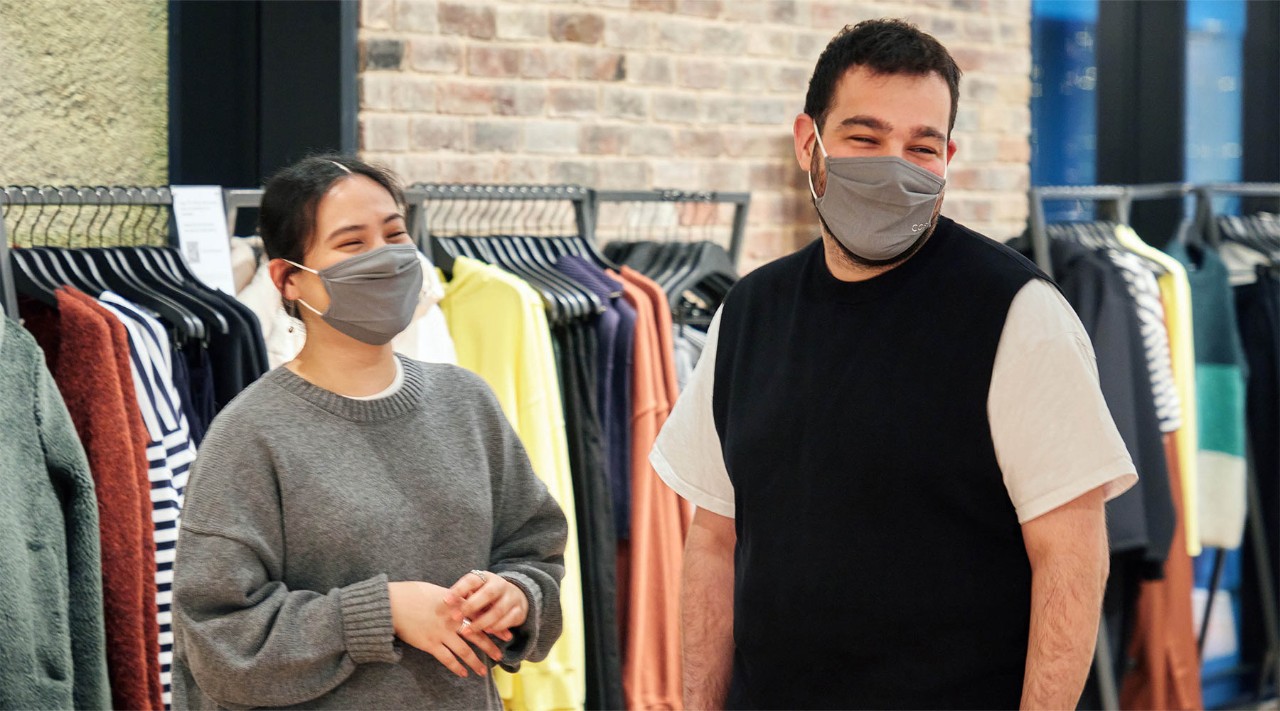 next
prev
Meet our team

COS, alongside Arket, Monki, Weekday, Afound, & Other Stories, H&M, and H&M Home is one of eight unique brands that make up the H&M group. The H&M Group employs over 170,000 people in 74 markets across the globe, and we are the 2nd largest fashion group in the world.
What truly makes us stand out are our incredible colleagues. Whether they work in store, in one of our regional offices or at our head office in London – they all share an ambition, and an anything-is-possible attitude. It's thanks to them that we have grown.
Meet some of our team to hear about their career story so far...
Raymond | Regional Visual Manager
Is there a typical day for a Regional Visual Manager? If so, what are the main things that you do?
I wouldn't say that there was a typical day, but there are a few things that are certainly routine. On Mondays, we usually do an action plan for the week ahead and check-in with the area teams in LA, New York and the global team in London. We also analyse the previous day's selling every single day to see how we're performing. The rest of the week is then spent out and about visiting stores and the local teams, plus signing off visual guidelines for the North America stores.
How did you get to where you are now? what was your background?
I joined in August 2016 as an area visual manager for the east coast region in the US.  Before this, I had experience for some other well-known brands, working my way up from sales advisor. I started with COS a year after it launched in the US, so it was an extremely exciting period – opening stores each month and taking the brand to new cities all over America and Canada. After 18 months, I was promoted to visual manager for the whole of North America.
What are the best things about your role?
Setting the visual strategy for both the US and Canada, adapting the guidelines to be more localised so that they feel closer to the customer. I also manage the North America visual team which has been fantastic for developing my leadership skills. In 2019, I was given the chance to be acting regional sales manager. Not only was I able to develop my skills further but also branch out into other areas I had never worked before. This is one of the best things about COS – if you have the drive and determination, you will be given a chance. The sky is the limit!
Is there any advice you would give to someone interested in a career in visual merchandising?
Go shopping, read fashion magazines or simply watch how people are dressing – inspiration is everywhere! These days, stores need to provide customers with a unique shopping experience so the visual merchandising should be inspiring and exciting. I would recommend you start in store – that's what I did. Most places will usually let you assist in changing windows or dressing mannequins to give you a bit of experience. From there you can usually apply for junior level roles and work your way up. One thing to bear in mind is that you'll also need to look at selling reports – the most successful people in this role are commercial as well as creative. 
Nelly | Sales Advisor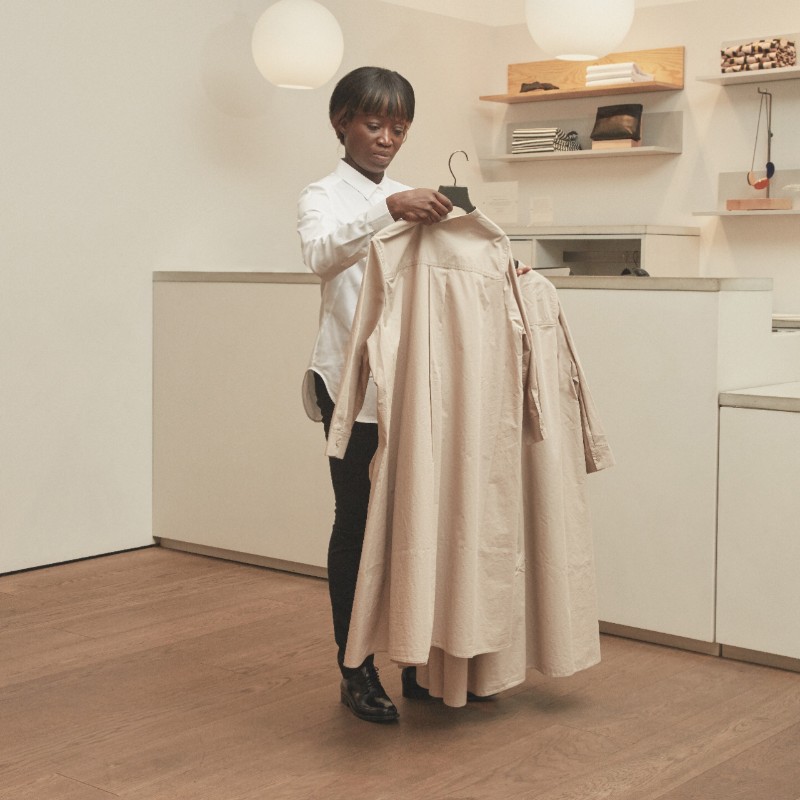 Is there a typical day for a sales advisor? If so, what are the main things that you do?
There are certainly some things that we do every day like delivery, stock replenishment and working at the cash register. However, what makes the job interesting are the customers. Everyone is different, so it's about tailoring the service we provide. Some people enjoy spending time talking to us about the collection, while others are just happy to browse in their own time. We are lucky to have lots of regular customers that come in just to see what's new. I enjoy it when someone comes in not knowing where to start and leave with a whole new outfit – that can really make my day.
How did you get to where you are now? What was your background?
I joined COS when we opened our store in Richmond, London. Before that, I had worked for H&M in various stores. In fact, it's coming up to my 10th year anniversary so it's hard to think of a time when I wasn't with the H&M group! One of the things I enjoy the most about working for COS is the team spirit. Everyone works together to make it a friendly place to work – I guess that's one of the reasons why I have stayed here for as long as I have.
What is the best thing about your role?
The people I work with – no question. I was an original member of the team at Richmond and even though I wasn't looking to move into management, I have really enjoyed watching others progress into new roles they want. I also like how newcomers are made to feel welcome. As a team we always try and make sure that there's a positive atmosphere – no matter how busy we are.
Is there any advice you would give to someone interested in a career at COS?
If you're looking to work your way up the fashion or retail ladder, then COS is one of the places to be. If you're open minded and flexible, there are so many opportunities to learn and progress. The brand is supportive of people who want to develop. They invest time and resources to ensure that the quality of training they get is of a high standard. Over the years I have learnt a lot, especially when I was given the chance to help with the expansion projects. This gave me the opportunity to meet new people and experience different cities.
Somi | Area Manager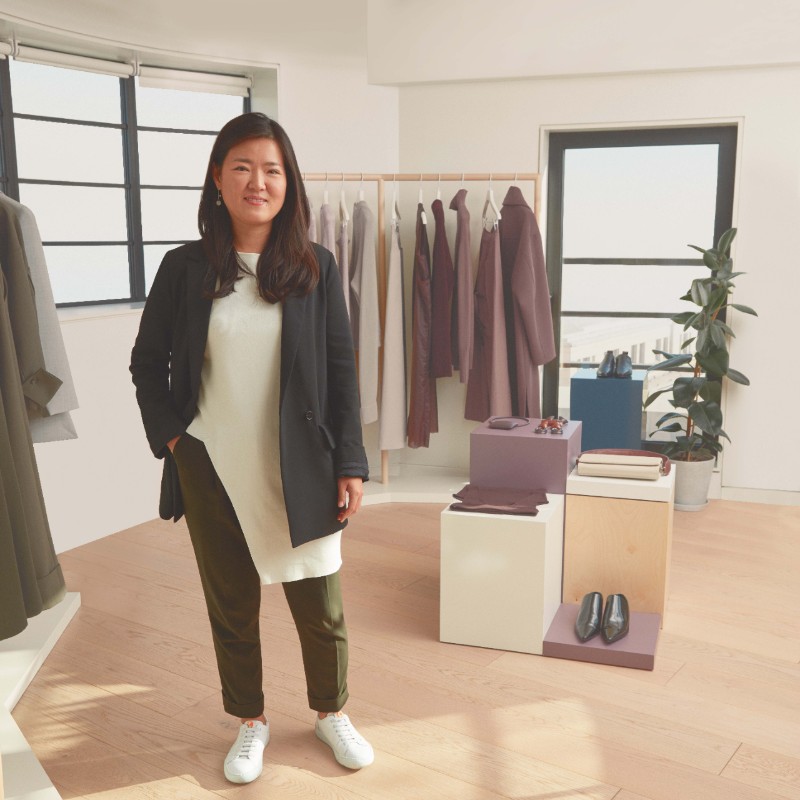 How did you get to where you are now? What was your background?
My journey started as a store manager in Seoul, Korea. What drew me to COS was the unique designs and quality of the products. Quite quickly, I realised there was even more to the brand than just the product – it was also my great colleagues! Having enjoyed my time in store, I decided to apply for the position of area controller for Korea and Japan. During the recruitment process it became clear that the role wasn't quite right for me, so with the support of my line manager I applied to become the area manager instead – and was successful!
What is the best thing about your role?
My life with COS began because I fell in love with the products and its story, but eventually what drove me to be where I am now is my colleagues. Everyone shares the same values and love for the brand. I have had the pleasure to work with so many great people who have encouraged me to get where I am now. In Korea we also have some of the best customers. When the first store opened, we had lines of people queuing around the block! Those customers are still shopping with us now and it's been amazing to see how the brand has developed here over the years.
Is there any advice you would give to someone interested in a career in retail management?
Pick the right company and take any opportunity you can to further your career. You will make mistakes but that's how you learn, they will support you to be entrepreneurial and take risks in order to improve the business.
Alberto | Store Manager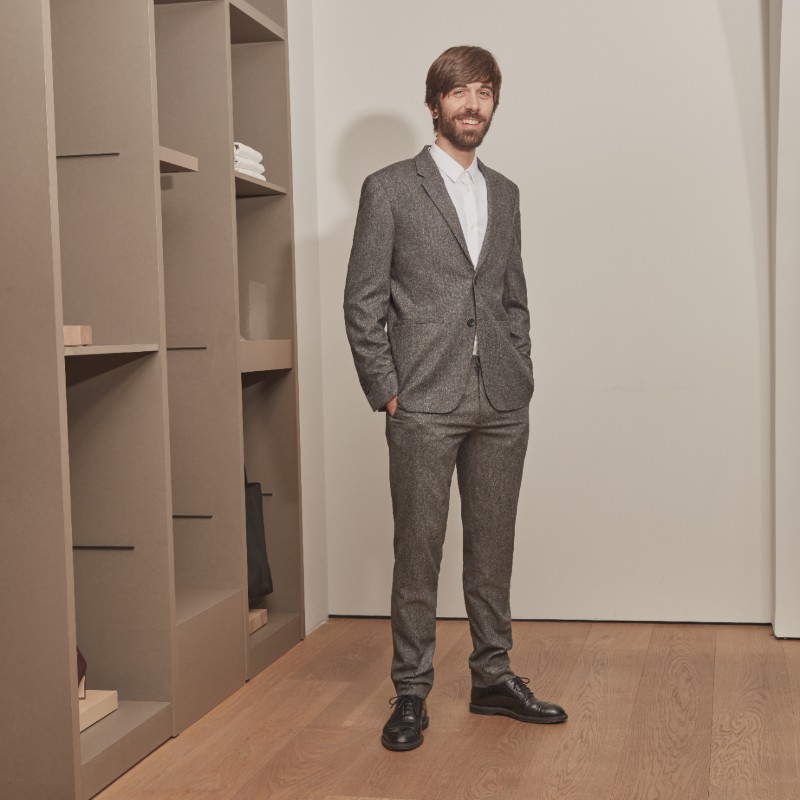 Is there a typical day for a store manager? If so, what are the main things that you do?
Every day in retail is different, but Monday is the most important day of the week. This is when you analyse the previous week's selling and plan everything. In fact, planning and organising takes up most of my time. I need to plan training hours, recruitment, holidays and other things like sale or product changes. There are a lot of things that you need to juggle, however, it's important to get them right to keep the team happy and offer our customers the best experience we can.
How did you get to where you are now? What was your background?
My first job in retail was as a stockroom supervisor. It was interesting as it helped me understand the importance of keeping the back-of-house area tidy – even now I always talk to my team about how the stockroom is the heart of the store!  My first job at COS was floor manager in our Knightsbridge store. Two years later, I was promoted to assistant manager and then, in 2018, I became the store manager for our Kings Road store. Working at COS has been a wonderful experience and I have met some amazing people along the way.
What is the best thing about your role?
That's easy – the best thing is achieving good results and watching people progress. In my store quite a few of my team have been promoted and I'm proud to have supported them on their journey. At COS, I have always been treated as an individual and not just a number. As a store manager, one of the most important parts of my job is to make sure my team feel the same way too.
Is there any advice you would give to someone interested in retail management?
Be proactive and take as many opportunities that come your way. You don't need a degree or any formal education to get started, just a good work ethic and a genuine interest in people – whether it's the customers or your colleagues. I must be honest… It can be a bit tough working in store. You are on your feet the whole day and you often need to react quickly to things, but there are also so many rewards!